Network Discovery for Android
Android network tool:
Discover hosts and scan their ports in your Wifi network. A great tool for testing your network security.
If you like this app, you can buy me a beer:
Features
Discover Machines on a Network (Ping/Connect/DNS)
TCP Port Scanner
NIC vendor database
Service banner retrieval
Service detection according to the service banner
Connect to known services (http, ssh, telnet) directly from the application results
Adaptive scanning rate (slow start, then adaptive to network latency)
Mobile network (3g) scans, even if it's not relevant
Multiple interfaces support (OpenVPN, IPSEC)
Export results to your sdcard in XML
Open Source
Future releases
Save scans in a db (TBD: object or relationnal) and reload them in the application
NETBIOS name resolution (with jcifs?)
Scan other IP subnet ranges
Nat traversal
OS Fingerprint (open ports based)
Root features: SYN port scan, and other improvements or additions. But first I really want the non-root version to be complete.
Nmap wrapper
Metasploit wrapper
Last Changes
0.3.5.1 - December 21th 2018
Remove donation link (Google TOS violation)
0.3.4 - August 2nd 2010
DNS discovery (dns resolution + ping)
Discovery performances (RateControl actually)
Bugfixes: cidr >30, black screen bug, ...
Design tweaks (do not show undefined mac addr, alignement when no mac addr, ...)
0.3.3 - July 28th 2010
Better performances for Portscan
Android 2.2 IP bugfix
0.3.2 - July 27th 2010
VPN support (OpenVPN, IPSEC) with choice of the interface in Prefs/General/Network Interface. ARP requests are blocked with OpenVPN so you won't have MAC addresses information.
Better IP detection
Bugfix: Buffer overflow in RateControl
Bugfix: Use the right ifconfig (full path)
0.3.1 - July 22nd 2010
Bugfixes: Db cannot be updated (proxy, loosy connection, ...), Db null checks, orientation change at installation, IP/wifi checks, list background color
Froyo external storage support: only the APK [250K] is moved though, db still internally stored
Slightly better performances
No more FTP support as I didn't find any good FTP client
0.3.0 - July 16th 2010
Service banner retrieval (ex.: SSH-2.0-OpenSSH_5.1p1 Debian-5)
Service detection if there is a banner
Rate Control: Automatically adapt timeout and rates according to ping RTT
Set custom timeouts
3G discovery (results may vary, use at your own risks!)
Little redesign (Thanks to Richard)
Preferences reorganized
Lots of bugfixes, code rewrite and factorization
0.2.7.2.1 - May 28th 2010
Bugfix: NIC database corrupt download (will prompt to re download)
Other bugfixes
0.2.7.2 - May 20th 2010
Localization: Chinese (Traditional and Simplified) translation provided by http://goapk.com
March 23rd 2010
Source code available for both root(under developement) and non-root version!
http://github.com/rorist/android-network-discovery
Full ChangeLog
Screenshots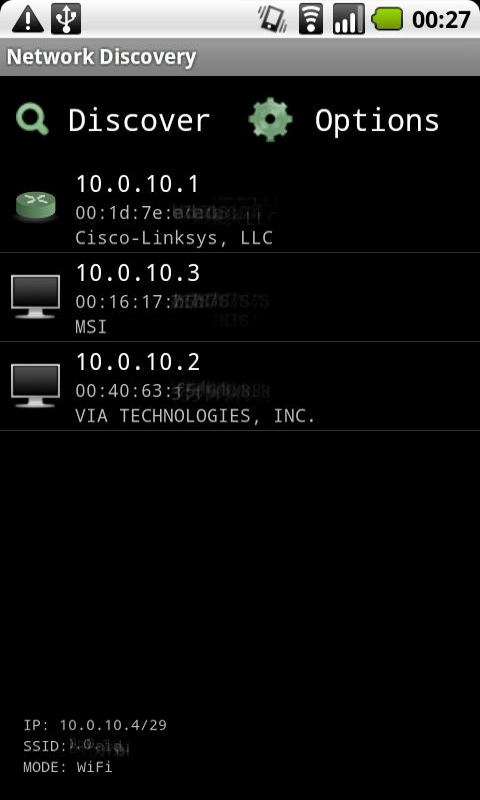 Legal notice
Please do not scan networks without the autorization of the owner, the best approach is to get permission first. It may be illegal in your country [1], so please act responsively. In example, port scanning tools could be considered forbidden in: England, France and Germany, without legitimate motive.
[1]
http://en.wikipedia.org/wiki/Port_scanner#Legal_implications